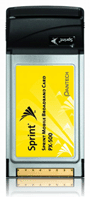 Features
Reliable High Speed Wireless Data Access Where Available: Receive broadband-like average data transmission speeds when downloading and uploading data to your PC (when and where available).
Security: Employs CDMA wireless technology authentication and identification system for top-notch security. The Mobile Identification Number (MIN) and Electronic Serial Number (ESN), together with CDMA spread spectrum technology, make it virtually impossible for unauthorized users to capture and decipher messages and other sensitive information.
Antenna: The Pantech PX-500 has an advanced dual band diversity antenna system design that incorporates an external flip-up antenna, maximizing data speed performance and allowing for stronger network signal reception. External antenna port included (external antennas sold separately).
Advance Power Management: The Pantech PX500 has an operating voltage of 3.3V for optimal laptop performance and reduced battery drain.
Software: Easy-to-install, easy-to-use software provides a common look and feel across connectivity products from Sprint. With minor Rev A updates, familiar signal strength, byte counter, network type and other connection parameters are displayed on the user interface. Self-diagnostic tools, an intuitive "Go/Stop" button for network access, connection type switching (1X only or 1X/EV-DO modes) and a detailed Help File enhance the user experience
Specs
Dual-Band
4.6" x 2.1" x .5"
1.8 oz