About the Aircard 313U (USBConnect Momentum)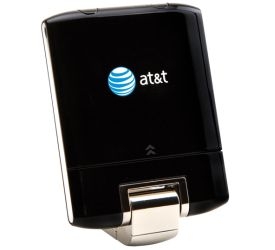 SIM Type: Standard 2FF
Features
USB connection: Compact modem plugs directly into your laptops's USB port.
4G LTE/HSPA+: Take advantage of the nation's fastest mobile broadband network that's getting faster with 4G. (where available)
Plug and play: Installation is quick and easy using the helpful setup wizard.
Expandable memory: Includes an expandable memory slot that supports microSD™ cards up to 32GB in size.
GPS capability: Access maps and other information about your current location from your laptop.
Specs
Technology - GSM/GPRS/EDGE/UMTS/HSPA+/LTE
Frequency - GSM/GPRS/EDGE: 850/900/1800/1900; UMTS/HSPA+: 850/1900/2100; LTE: 700/AWS
EDGE high speed data network - capable
Dimensions - 2.6 x 1.02 x 0.51 inches
Weight - 1.06oz
Antenna - Built-in antenna and external antenna port (external antennas sold separately)
Supported OS - Microsoft

®

Windows

®

7, Windows Vista

®

, Windows XP SP3 and Mac

®

OS X (v10.5 or later)
Antenna Port Location
Connect the antenna to port 1, located beneath a cover on the left side of the top of the modem
Tips For Using Your Antenna/Adapter Cable:
The 313U's antenna port can be picky - if the antenna doesn't seem to be working at first, try gently removing the cable and then try it again, or try disconnecting the modem from your computer/router and connecting the adapter cable first and THEN re-connecting the modem. It can take several tries to get the modem to "see" the attached antenna. This can be frustrating but does not mean that the modem or cable is defective.
Be GENTLE when connecting or disconnecting the adapter cable to/from your modem - the connector pins and the ports themselves can be VERY FRAGILE!!!
If the adapter cable feels loose when you connect it to the antenna port, remove it and roll it back and forth between your thumb and forefinger while applying medium pressure. The friction and pressure will cause the connectors' "teeth" to tighten up, allowing it to fit more snugly in your device's antenna port.
If you're using a magnetic mount antenna, make sure it is connected to something magnetic or it will not work! If you're using an antenna that included radials, make sure the radials are screwed on or it will not be as effective! (other antennas do not require grounding)