About the Jetpack MiFi 4620L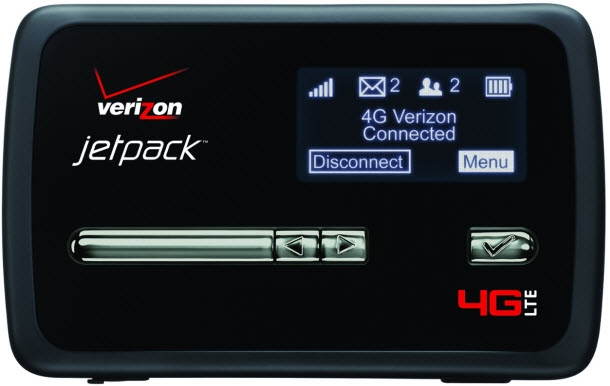 SIM Type: Micro 3FF
Features:
Antenna port for an external antenna (sold separately)
4G LTE Mobile Broadband and Mobile Broadband capable
LTE: Typical download speeds of 5–12 Mbps and upload speeds of 2–5 Mbps.
Connect up to 10 Wi–Fi® enabled devices at one time in 4G and 5 devices at one time in 3G
Global Ready™– Supports GSM data roaming
MiFi 4620L does NOT support VZAccess® Manager
Chipset: MDM9600
4G SIM Card compatible (3FF SIM)
Slim, Compact size
Integrated OLED Status Display
Multi–color service state LED
User–Friendly Web UI: No Software to install
High performance internal antenna
VPN Capability
Auto–Connect
Global Data roaming is set to ON by default
Specs:
Technology Bands
CDMA 1xEV–DO Rev.A/Rev.0: 800/1900 MHz
4G LTE (700MHz)
Quad Band GPRS/EDGE 850/900/1800/1900 MHz
Quad HSPA+/UMTS 850/900/1900/2100 MHz
System Requirements
Wi–Fi 802.11 b/g/n
Compatible with all major operating systems
Works with the latest versions of browsers, Including Android™, Chrome™, Firefox®, Internet Explorer®, Safari™ and Mobile Safari™
Specifications
Dimensions: H x W x D: 3.76 x 2.36 x 0.53 in
Weight: 3.17 oz.
Battery Times: Usage–Up to 5hrs; Auto Display Shutoff with 30–second timer on by default
SAR: 1.570 W/kg
Antenna Port Location
The MiFi 4620L's antenna port is under a plug on the lower left side of the device.
Tips For Using Your Antenna/Adapter Cable:
Be GENTLE when connecting or disconnecting the adapter cable to/from your modem - the connector pins and the ports themselves can be VERY FRAGILE!!!
If the adapter cable feels loose when you connect it to the antenna port, remove it and roll it between your thumb and forefinger while applying medium pressure. The friction and pressure will cause the connectors' "teeth" to tighten up, allowing it to fit more snugly in your device's antenna port.
If you're using a magnetic mount antenna, make sure it is connected to something magnetic or it will not work! If you're using an antenna that included radials, make sure the radials are screwed on or it will not be as effective! (other antennas do not require grounding)