About the Aircard 250U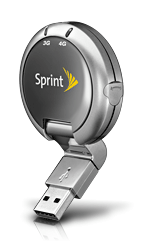 Features
Compatibility

Microsoft Windows® XP, Windows Vista® and Windows 7
Mac OS X version 10.4, 10.5 and 10.6

Easy Installation and Activation

Simply insert the SmartView CD to install the software and the device will be activated automatically as part of the installation process. NOTE: Providing that your data plan subscription and electronic serial number (ESN) have been established in the Sprint billing system, the device will program and activate automatically when Sprint SmartView is installed and the device is inserted into the computer.

Rotating USB Connector

Flexible USB connector makes it easy to plug into any USB port.

Two external antenna ports

Plug in separately purchased external antenna into port to boost signal and coverage area

Simple, easy to use

3G/4G LED indicators (move up higher) Unique light indicators communicate if the device is in 3G or 4G coverage

Sprint Smartview

Sprint SmartView connection manager makes connecting fast and easy, plus gives you easy access to GPS features and services at the touch of a button. Additionally, customized configuration is available to Enterprise customers.

GPS Capable

Autonomous and simultaneous GPS using Sprint Navigation for turn by turn directions, and points of interest searches.

Sprint Mobile Broadband Capabilities

With the evolution to EV-DO Revision A, users in markets where it is rolled out, will experience faster average download speeds of 600 kbps - 1.4 Mbps and average upload speeds of 350 - 500 kbps.

Security

Employs CDMA wireless technology authentication and identification system for top-notch security. The Mobile Identification Number (MIN) and Electronic Serial Number (ESN), together with CDMA spread spectrum technology, make it virtually impossible for unauthorized users to capture and decipher messages and other sensitive information.
Specs
Dimensions: 0.6" x 1.9" (round)
Weight: 2 oz
Compatibility: Microsoft Windows® XP, Windows Vista® and Windows 7 Mac OS X version 10.4, 10.5 and 10.6
Antenna Port Location
The 250U has 2 antenna ports, one for a 4G antenna and one for a 3G antenna. Make sure to connect the antenna to the port for which you are trying to boost signal - the 3G port is closest to the Sprint/CLEAR logo (AWAY from the LED lights); the 4G port is closest to the LED lights.
Tips For Using Your Antenna/Adapter Cable:
Be GENTLE when connecting or disconnecting the adapter cable to/from your modem - the connector pins and the ports themselves can be VERY FRAGILE!!!
Boosting 4G signal requires a 4G-capable antenna. Not all antennas will boost 4G!
If the adapter cable feels loose when you connect it to the antenna port, remove it and roll it between your thumb and forefinger while applying medium pressure. The friction and pressure will cause the connectors' "teeth" to tighten up, allowing it to fit more snugly in your device's antenna port.
If you're using a magnetic mount antenna, make sure it is connected to something magnetic or it will not work! If you're using an antenna that included radials, make sure the radials are screwed on or it will not be as effective! (other antennas do not require grounding)