About the UM175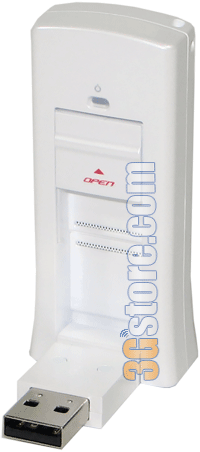 Features:
Rev. A Capable: Typical download speeds of 600–1400 kbps and upload speeds of 500–800 kbps
Compatible with all devices supporting the Type A USB interface including desktops, notebooks, tablet PCs and PDAs (see System Requirements)
VPN Client Compatible
VZAccess Manager™ software for easy connection management
High performance antenna
2–color service state LED
External Antenna Connector (External antenna sold separately)
2–way Text Messaging capable
NDIS driver support
32 MB RAM memory
64MB flash memory
System Requirements:
Universal Serial Bus (USB) 2.0 Port
Processor: 166 MHz
Disk Drive: CD ROM
40 MB free hard disk space
Windows® 2000, XP, Vista, and 7; Mac OS 10.4 (Tiger), 10.5 (Leopard), or 10.6 (Snow Leopard)
Dimensions:
2.8" (H) x 1.1 " (W) x 0.6" (D)
Weight: 1.1 oz.
Antenna Port Location
The UM175's antenna port is under a plug on the right side of the device.
Tips For Using Your Antenna/Adapter Cable:
Be GENTLE when connecting or disconnecting the adapter cable to/from your modem - the connector pins and the ports themselves can be VERY FRAGILE!!!
If the adapter cable feels loose when you connect it to the antenna port, remove it and roll it between your thumb and forefinger while applying medium pressure. The friction and pressure will cause the connectors' "teeth" to tighten up, allowing it to fit more snugly in your device's antenna port.
If you're using a magnetic mount antenna, make sure it is connected to something magnetic or it will not work! If you're using an antenna that included radials, make sure the radials are screwed on or it will not be as effective! (other antennas do not require grounding)