Enterprise Cloud Manager (ECM) is CradlePoint's next generation network management solution available in 1, 3, and 5 year terms for the MBR1400, CBA750B, MBR1200B, IBR600, IBR650, AER 2100, CBR400, and CBR450 routers. It allows users to easily manage multiple Cradlepoint routers across their network from one central Cloud-based portal, saving admins time with firmware updates and applying custom configuration; admins can also create sub-accounts with varying levels of access for technicians and other administrators. Improve productivity, reduce costs, and enhance the intelligence of your network and business operations with ECM. download the ECM data sheet (PDF)
DEPLOYMENT – configure devices by groups or individually, and update firmware easily with a few clicks.
MANAGEMENT– monitor device statuses in real-time and set proactive alerts for optimized 3G/4G data usage.
INTELLIGENCE– manage network security and track network interference information.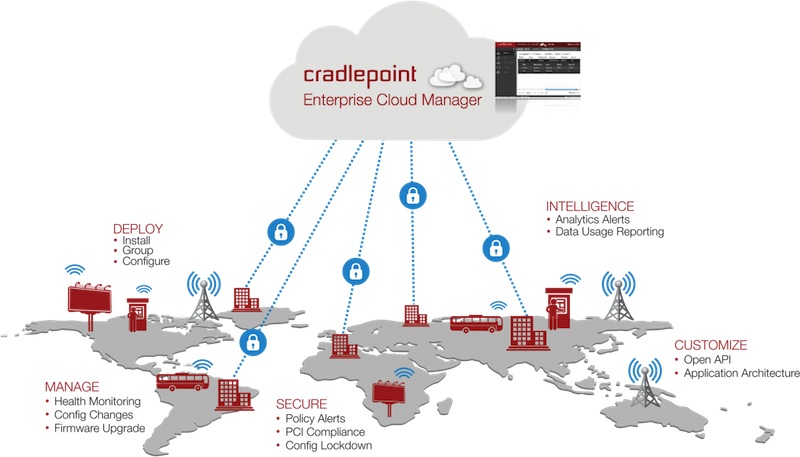 IMPROVEMENTS
Next generation cloud software built upon WiPipe Central experience and customer feedback
Near real-time secure device management
Access to entire router status tree
Supports partners and enterprise customers with any level of accounts and sub-accounts
Enables 'add-on' applications
Open and robust API
SECURE AND RELIABLE
CradlePoint Enterprise Cloud Manager uses secure, encrypted communication protocols to ensure your transactions are safe from "eavesdropping" or other compromising interventions. Additional security features include:
Secure device registration and authentication
Enterprise class Tier 4 datacenter, SSAE Type II (SAS 70) compliance
Redundant systems and architecture to support high availability
LOWER COST, GREATER CONTROL
CradlePoint Enterprise Cloud Manager can help you protect mission-critical applications – improve network uptime and performance while reducing costs:
ALERTS AND DEVICE NOTIFICATIONS
Proactive alerts and reporting enable you to better understand how devices are deployed across your organization. Alerts can notify you of:
3G/4G modem connectivity issues 
Data usage thresholds for wireless data plans 
Connection alerts if device connection is lost
Failed login attempts and modem removal, which can indicate physical or cyber security breaches
Watch Cradlepoint's "Getting Started With ECM" Video:
Extended Enterprise License (EEL) is an additional option for the MBR1400, AER 2100, IBR600, and IBR650 routers that provides advanced routing and security features designed to increase productivity and business continuity for an enterprise network. download the EEL data sheet (PDF)
Advanced Enterprise Routing: Allows users to set up complex network routing architectures including router redundancy – internally and externally. This allows the device to participate in more advanced routing ecosystems at the edge.
More Advanced VPN & Tunneling Protocols: Expands an enterprise's ability to adopt and use different types of secure VPN tunneling.
NEMO (NEtwork MObility) / DMNR (Dynamic Mobile Network Routing from Verizon): Gives companies the ability to directly communicate and manage LAN-connected devices attached via CradlePoint routers. This separates customer data from public traffic and provides a direct connection back to their internal IP network. Access and traffic flow is completely controlled by customers and allows them to manage LAN devices from a central location without the need for individual VPN connections for each LAN-connected device.
CradlePoint is actively engaged in the development of new features to further enhance the functionality of their networking solutions. When new features become available, they will automatically be added to CradlePoint devices with Extended Enterprise Licenses when firmware upgrades are applied. Customers will have the ability to choose among the offerings that are critical for their network, quickly deploy the chosen application, and streamline network management.
EEL Feature List:
Routing

OSPF/BGP/RIP
VRRP
STP
NHRP

VPN & Tunneling
NEMO (Network Mobility) / DMNR (Dynamic Mobile Network Routing for Verizon)

NEMO/DMNR Primary
NEMO/DMNR Failover (Pending Verizon certification)

Cloud Security

Seamless integration with Zscaler's secure web gateway.¹ Depending on your Zscaler implementation, this could include:

Global Cloud Platform
Real-Time Reporting
Behavioral Analysis
URL Filtering
Advanced Threat Protection
Inline Anti-Virus & Anti-Spyware
Web 2.0 Control
Data Loss Prevention
Bandwidth Management
Web Access Control
And more…

WiFi

WPA2 Enterprise Authentication for WiFi as WAN²
1: AER 2100, COR IBR11x0 series, COR IBR600 series (excludes the IBR650 series) and ARC MBR1400v2 only
2: ARC MBR1400v2 only